There are countless ways to renovate a kitchen. We'll show you 14 great ideas and tips with which your kitchen will soon appear in a new light.
A new kitchen is expensive. Although the price varies depending on the equipment and material, the cost of a kitchen is usually not paid out of the postage. If the basic substance is still in order, the heart of the house can be renovated with less cost and less effort. 14 ideas for a kitchen with a new look.
Renovating the kitchen – 14 ideas big and small
1. Suspend the ceiling
When you think about renovating, you seldom think about the ceiling. But if the ceiling is too high or if the previous tenant immortalized an unsightly fresco, something should happen. Stretch ceilings can be a good alternative in such cases. This is used to suspend a ceiling without having to touch the actual ceiling.
The stretch ceilings are made of PVC (film stretch ceilings) or polyester fibers (fabric stretch ceilings). If you are looking for something special, you may find what you are looking for with the stretch film ceilings, because they can achieve a glossy effect.
2. Replace kitchen fronts
When you enter a kitchen, you mainly notice the fronts, as the kitchen unit often dominates the room. If these are past their prime, new fronts are necessary. If you live in a rented apartment (and the kitchen is also rented out according to the rental agreement) you can speak to your landlord, who may pay for the renovation. You can also swap the fronts yourself if you just don't like them, for example. In that case, make sure that you can restore the kitchen to its original state should you move out of the apartment.
Foil fronts
If you don't want to spend so much money on new fronts, the adhesive film is a good option. Here you can choose from a wide variety of designs. When choosing, pay attention not only to the appearance, but also to the thickness, heat resistance, and care properties (e.g. water-repellent).
Paint the fronts
Cutting foils isn't your thing? Then consider varnish to freshen up the fronts. Here it is important to pay attention to the nature of the material, not every paint is suitable for all surfaces.
3. Replace the worktop
A countertop goes through a lot over the years! If it is replaced, it has a massive impact on the look of the room. Wood exudes a warm flair, you can rely on a solid wood panel or on the common MDF or multiplex panels with a wood look. Solid wood is more durable, but also requires more maintenance, while the other panels are easier to care for and usually cheaper.
A granite slab is also robust, heat-resistant, and insensitive to moisture – and a real eye-catcher. The natural stone is not expensive for nothing, but anyone who invests in such a plate has benefited from it for a long time.
4. Spice up the tiles
It's not just replacing the worktop that can make a big difference. A new or changed tile mirror conjures up a new feeling of living in a flash. Two different methods are suitable for this:
Painting tiles
If the tiles are no longer attractive, you can paint them with a tile varnish a fresh coat of paint. Please note: The tiles and joints must be completely clean and free of dust! If a tile has a flaw, fix it beforehand. And before you start painting, you should tape off any areas that will not be painted.
Cover tiles
If you don't want to work on the entire tile section, but only want to set accents, you lie with tile stickers precisely. Available in different designs, they are mostly easy to attach. Choose between different patterns or motifs that stretch across several tiles.
Alternative to the tile mirror
If there is no mirror or you do not want it in the shape, you have different options. A kitchen rear wall is also possible made of metal, glass, acrylic glass, wood or natural stone. Which material looks best in your kitchen depends on the rest of the design.
5. Rethink wall design
A paint job in the kitchen can have a big impact! Which color you paint is of course a matter of taste. However, colors have an influence on our mood. So it is worthwhile to take a closer look at color psychology. A color choice for the kitchen:
Orange creates a happy, cheerful ambience and has an appetizing effect.
Blue can quickly appear cold, but it also exudes a certain calm. Goes well with wooden furniture.
Green also has a calming effect and is associated with nature, hope and freshness.
Browns and beige are very warm, calming, and grounding. The tones can be combined particularly well with other colors or a color accent.
Tip! Before you get a bucket of paint: When choosing the color, also consider whether it fits the interior of the kitchen and whether the two would go well together.
6. Fresh flooring
Replacing the flooring also creates a new feeling of space. In addition to the appearance, factors such as a robust surface, moisture resistance, and slip resistance play a role. The variants for a floor covering in the kitchen are diverse:
Laminate
parquet
cork
linoleum
Tiled floor
Stone floor
While tiles and laminate are quite cheap to get, you have to dig deeper into your pocket for stone floors. You should also consider having the floor laid by professionals so that you are really satisfied with the result in the end.
7. New furniture
The kitchenette is not the problem area at all? A new seating area, a new buffet in the corner or new bar stools for the counter also bring a breath of fresh air into the kitchen. You can skillfully set accents, your kitchen is otherwise kept rather simple, the buffet shines in a pastel lilac or the barstools come with a noble leather cover for the wooden kitchen! Whatever you like is allowed.
What's still up
As you can see, the kitchen doesn't have to be completely renovated to feel comfortable in the room again. Even small changes can have a big impact. Here you can find more tips with little effort:
8. Replace handles
Swap the handles of your kitchen fronts against other models. Regardless of whether they match the previous look or you are playing with a style break, they give your kitchen an easy-to-reach pep up!
9. Decorate
Decoration also quickly creates a feel-good flair, such as B. Plants or herbs, a decorative tray or (framed) pictures/posters, or other wall decoration ideas.
10. Put special pieces in the limelight
An extravagant cake stand, an extraordinary DIY lamp, or grandma's old soup bowl as a herb pot – special pieces also have a special charisma. Those who cannot fall back on heirlooms become active themselves! There are many nice upcycling ideas that not only avoid rubbish but also give the kitchen an individual touch. How about old fruit boxes as wall shelves for your favorite mugs ?!
11. Blackboard paint for more creativity
A special gimmick is blackboard paint! You can use it to highlight certain corners of the kitchen – your children will definitely love it.
12. Painting the refrigerator
If you have a large refrigerator in the kitchen, it will be happy to have a refresher! Whether you set a highlight here with a bright color or the new color harmonizes well with the rest of the kitchen is of course up to you.
13. Set light accents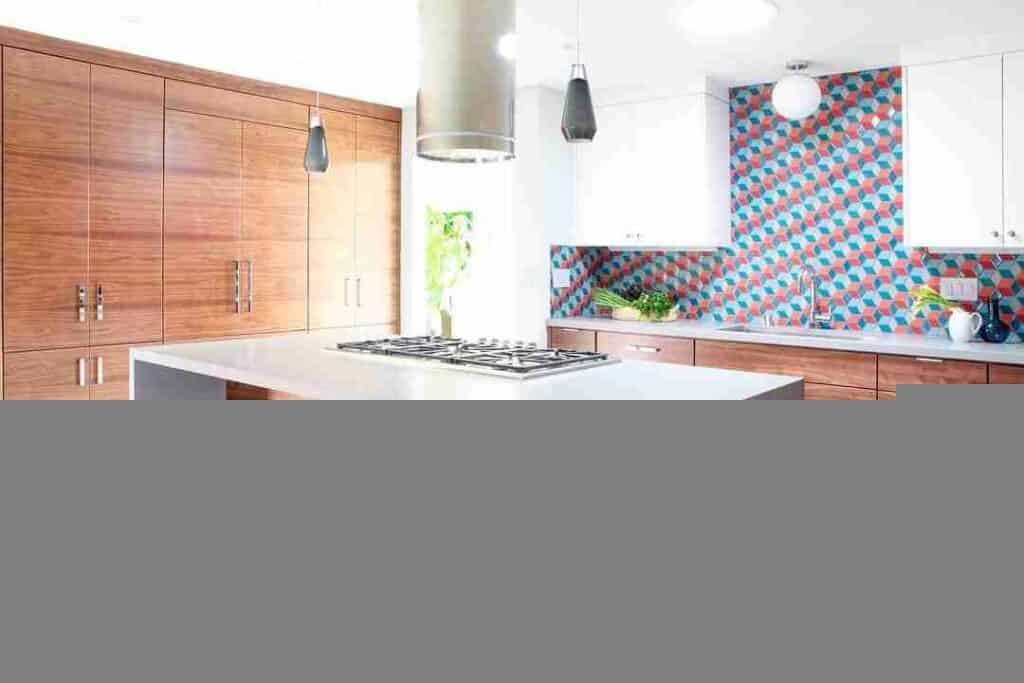 The lighting can make a room appear cool and bare or warm and cozy. A mixture of direct and indirect light is ideal, so you have enough light to work while chopping vegetables, while later eating with light strips, wall lights, fairy lights, or a ceiling canopy, you can enjoy the coziness.
14. Create storage space
In order to bring new momentum to the kitchen, there doesn't have to be a complete makeover. Especially when rooms are small, they can quickly appear overloaded. Even small optimizations let the kitchen appear in a new light. Magnetic strips (e.g. for knives) relieve the work surface, open shelves for dishes or spices also provide new space and hanging strips for pots and pans ensure order and more space. Here we give you more tips on how to organize your kitchen.